Randall has had his own creative design and advertising business since 1986. He also consults with a number of integrated marketing agencies and major entertainment companies as a hands-on Creative Director. In addition, he has worked on advertising and marketing projects for various non-profits, including, the California Museum of Science & Industry, Gilda's Club, Zink the Zebra, CorpCare and the Del Rio Foundation.

Having written, art directed and produced over 800 consumer, retail and direct response commercials, Randall's expertise is extremely well versed in all phases of communication and media, including print advertising, websites, social media marketing, banner ads, television and radio commercials, marketing collateral, outdoor, POS and sales promotion.
After being appointed Creative Director of Asher/Gould in 1983, Randall was instrumental in rebranding them from a local, retail shop with limited visibility, to an award-winning agency with over 100 employees who handled national brands including Pabst Blue Ribbon Beer and numerous others.
Randall has held positions at major international advertising agencies in Chicago, New York and LosAngeles where he worked on some of the most prestigious leading, nationally advertised brands including Coca-Cola, Chevrolet, Dial Soap, Kraft, Clairol, Excedrin, Oil of Olay, Dash, Certs, Mag-Lite, Taco Bell, Transamerica and Becks Beer. He started his career as an Art Director at nationally recognized, Jim Weller & Partners, in Milwaukee.
Randall has won awards at virtually every post he has held. He received international acclaim for his role as Creative Director of the provocative and surreal campaign for Flying Tigers Air Cargo.
Randall has both art and science "in his DNA". From a young age, he knew what he was going to do with his career and even won national awards for his art as early as high school. As a musician, he recorded an album of his own songs. As a photographer, his specialty is floral art and he has developed a substantial following (
www.randallscherrer.com
). As an inveterate science devotee, he attended a series of lectures by Nobel laureate, Murray Gell-Mann, on subatomic particle theory, has taken classes on genetic engineering, plant identification and astronomy at UCLA and was a founding member
of The Planetary Society.
Randall has been a member of the Art Director's Club of New York and is a former instructor at the prestigious Art Center College of Design in Pasadena.
Download Bio
(pdf).
---
Resumé
Randall Scherrer Advertising  1986 - Present
Creative Services for Various Ad Agencies and Design Firms,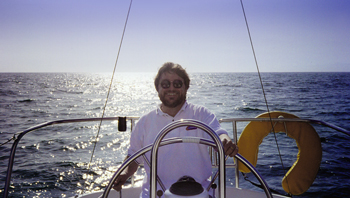 including Client-Direct for Advertisers such as:
Transamerica.  In-N-Out Burger.  Furr's Cafeterias/Bishop's Buffets.  Outdoor Products Backpacks.  Foxwoods Resort & Casino.  Mystic Lake Casino.  Stardust Casino.  Bonfit.   Various Health Care.  Taco Bell.  Hamburger Hamlet.  Cleveland Golf.  Mag-Lite.  Chevrolet.  Mexicana.  Western Publishing.  Amblin Entertainment.  Universal Pictures.  Paramount Pictures.  MGM.  Disney.  New Line Cinema.   Sony Pictures Entertainment.  Fox Kid's Club.  20th Century Fox.  Carrows Restaurants.  Prosoft.  Leitch.  Affinity Group.  Netgateway.  GeoLogistics. Amerind Media Services. Dairy Queen. DNF Controls. NPI. Cal Spas. Balboa Instruments. Various Direct Marketing Accounts, including - Dremel, Rotozip, Inside Approach, and numerous others.

Blake, Walls & Associates  V.P./Partner - Creative Director.
Wienerschnitzel Restaurants.  Johnson & Johnson Health Management.  First Born.  Coca Cola West.  Triax Entertainment.  The Culver Studios.  GTG Entertainment.  UTA French Airlines.  California Magazine.   Calif. Trial Lawyers Assn.  World Runners.

Asher/Gould (LA) Vice President Creative Director.
Pioneer Chicken.  Pabst Beer.  Various Retail/Health Care.  National Council On Alcoholism. Southern California Cable Association.

Young & Rubicam - Marsteller (LA)  Assoc. Creative Director.
Flying Tigers.  Clarion.  Informatics.  California Museum of Science & Industry.

Della Femina, Travisano  (LA)  Creative Supervisor.
Magic Mountain.  PSA.  Isuzu  Becks Beer.

Young & Rubicam New York  Creative Supervisor.
Excedrin.  Pabst Beer.  Dash.  Clairol.  Johns-Manville.  Certs.  Oil of Olay.

Foote, Cone & Belding  (Chicago)  Art Director.
Dial Soap & Anti Perspirant.  Kraft.  Raid.  Shout. Zenith.

Jim Weller & Partners (Milwaukee)  Art Director.
Florence Eiseman.  Spur Gasoline.  Local Retail Accounts.

Robert S. Block Advertising (Milwaukee)  Asst. Art Director.
The Great Atlantic & Pacific Tea Co (A&P).  Various Local Retail Accounts.

University of Wisconsin - Milwaukee.  Fine Arts Major.  Anthropology Minor.
UCLA.  Various courses in continuing education.

Art Center College of Design.  Instructor.


---
–  R E F E R E N C E S  –
(From LinkedIn)
"Randall brings his a creative eye, his enthusiasm and his experience to graphic and website creation and design."  Craig Wyrick-Solari, Associate Producer at Lionsgate
"I know that I can always count on Randy to produce superlative design concepts which are both on time and within budget. I have never hesitated recommending him to one of my clients as I know he has work ethic that my clients demand."  Scott Immerman, Principal, S.E.A.L. Systems, LLC.
"Randy has been a trusted business associate and friend for over 20 years. Randy is inspirational and great to team up with on projects. He is the best Creative Director I have ever worked with from strategic concept to roll out. Randy possesses a rare combination of advertising talents including cutting edge creative and technical savvy. His talent flows effortlessly between print, web, video production and other media providing complete advertising and marketing continuity. Most important, his efforts are goal oriented and successful."  Thomas DAmico, Founder/President, American Flags Express Inc.
"I've known and admired Randy's work since 1986 though we never actually got to work together until 2007. Randy is very smart and a true, all-around, advertising professional. While his obvious strength is as a creative director who can deliver excellent art direction and copy, he's also a smart and incisive strategist. On to of all that, he's very cost effective... oh, and did I say he's a nice guy, too?!?"  Bruce Silverman, Owner, Bruce Silverman Consulting 

"Randall is a consummate professional and a pleasure to work with. His unique eye for creativity has kept our messaging fresh and allowed our company to grow revenue in an ultra-competitive market."  Chris Reis, Director - Marketing and Sales at Boston Medical Group
"I worked closely with Randy on advertising, direct mail, and marketing collateral projects. Randy is incredibly creative, thoughtful, and efficient. It was an absolute pleasure working with him."  Oliver Carmona, Strategic Engagement Manager at Omniture, an Adobe company
"Randy has been our go to guy for a myriad of projects from producing to writing to editing. Whenever we are in a crunch, we called Randy and he always comes through like a champ. He is a rare find in this business. The only reason I hesitate to give this recommendation is because now other people will discover him and then he will raise his rates."  Rich Kagan, Owner, Wingman Media
"It was a pleasure to work with Randy at Weller & O'Sullivan. He brought a wealth of advertising expertise to the agency and was always happy to share his knowledge with creatives who were just starting out. Strong in both art direction as well as concepting, I was always impressed with Randy's ability to get a superb quality of work produced, while staying calm in a high-pressure environment."  Joelle Sellner, Writer at Freelance

Other references available upon request.
ALLIANCES

Adville/USA
Band Of Branders
M2 Marketing
Madelyn Hammond
Martin Creative
PBC Com
Peter Green Design
RCA FIlms
RichmondWest
Victor Caldwell
Wingman Advertising